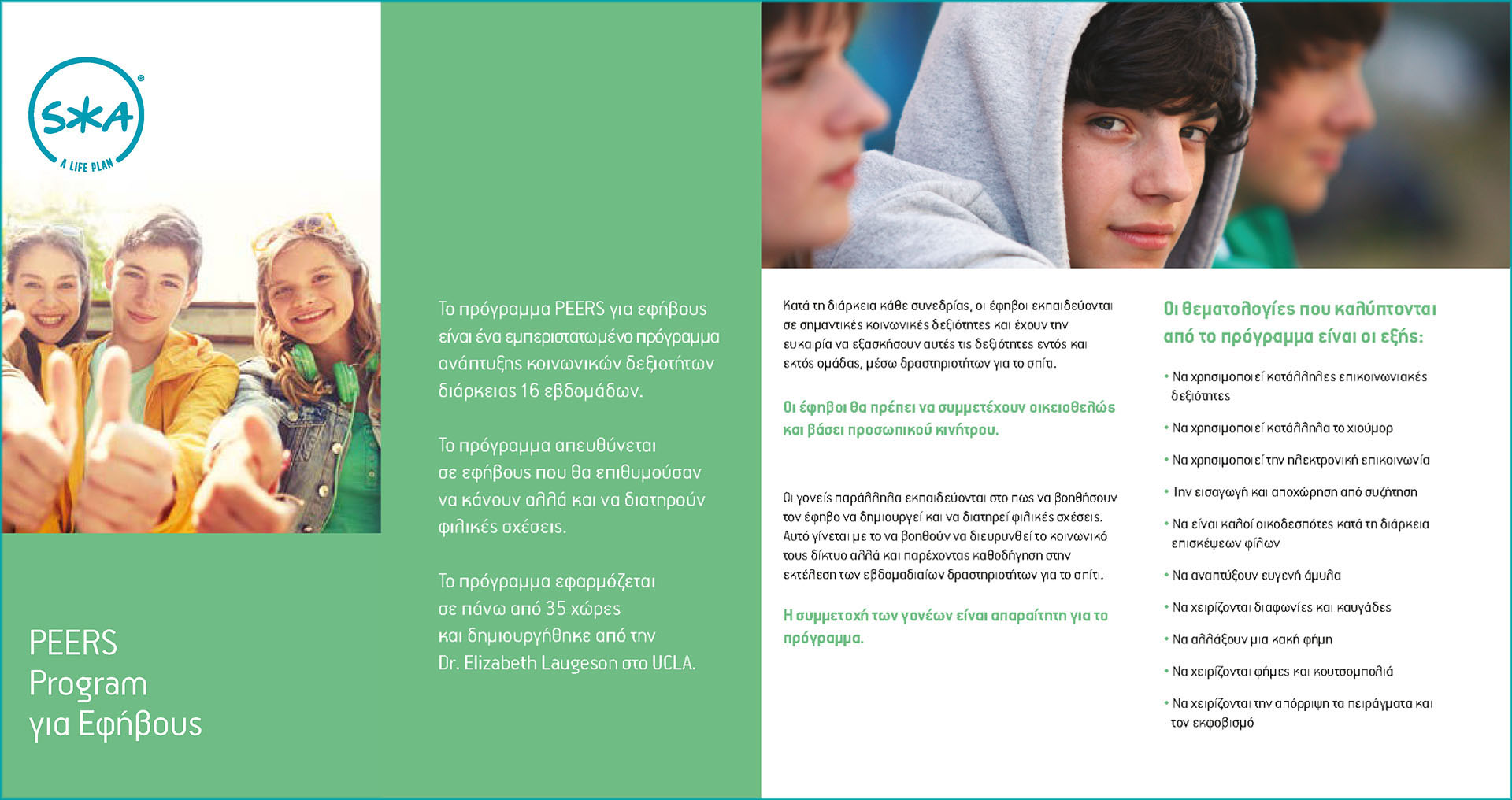 The program is meant for motivated teens in middle and high school who are interested in making and keeping friends and/or handling conflict and rejection. Teens and parents attend 14-weekly group sessions for 90 minutes per week. Teens are taught social skills through didactic lessons and role-play demonstrations, and practice these skills during group socialization activities. Parents attend separate sessions simultaneously and are taught how to assist their teens in making and keeping friends.
Parent participation is required. Teens will learn about:
Developing and maintaining friendships
Conversational skills
Entering and exiting conversations
Digital communication
Using humor appropriately
Organizing get-togethers
Being a good sport
Handling disagreements
Changing a bad reputation
Handling teasing and bullying
The program conducts either in person or virtually. People from all over Greece can participate in the virtual version. The way of conduct depends on the requests. A combination of virtual and in-person versions is not possible.
Parent participation is required. The PEERS program can be run either live or online. The program can not attend people outside Attica if it is done online, depending on the requests of the participants. However, the two methods can n't be combined.
Participation Requirements
Have friendship problems
Teens in middle school or high school
Teens must agree to participate in the program voluntarily
Teens must be interested in attending the program
Teens must consistently attend the program
Parent must be willing to participate
How can I apply
If you are interested in participating in the boot camp you can complete the application form below or contact our office at 2130365271 or send us an email at

info@alifeplan.eu

.
• Complete a short phone screen with a member of our staff If the requirements are met you subsequently receive an enrollment packet.
• Complete and return your enrollment packet.
Complete a 1.5-hour intake appointment via

telehealth

with one of our clinicians Determine if this program is appropriate for you and your teen.
*Enrollment is limited.
* Groups are conducted twice a year, Enrollment is ongoing.
*The clinician determines group placement at intake appointments based on group dynamics.
Expression of Interest Form